Waffles! Oh Waffles! YUM
Sunday, February 8, 2009 | Time: 5:36 AM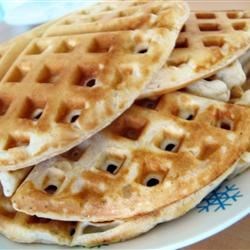 I just made the best EVER waffles! They were perfect, even better than store-bought!
The secret is probably mixing the egg whites seperately (so theyre fluffy) and folding them in last.
However, me being me, I made a few changes to the recipe. I used half rice flour and half wheat flour. I also used 3/4 cup (cooled) coffee + 1 cup milk instead of 1 3/4 milk.
I was surprised when I opened the waffle iron and they were... SHINY! LOL XD Also they are nice and crispy but perfectly done, not over done at all. Not to worry though, they do get nice and soggy under butter and syrup ;)
Not sure if that was due to the eggs or to the rice flour. Or maybe the addition of coffee?
Anyways I also changed the sugar content - from 1 tablespoon to about 1/3 cup. 1 tablespoon is NOT enough sugar, the waffles are too bland. Also, just a tad more salt, about a teaspoon.
If I had any, I might also sub applesauce for the oil.

Anyway these were really cool waffles. Im happy to say I've finally found the perfect recipe for mass production, lol. I shall make many of these and freeze them for easy breakfasts <3 style="font-weight: bold;">
Perfect Waffles Recipe
adapted from Allrecipes.com
2 eggs, separated

1 cup all purpose flour
1 cup rice flour

1 cup milk
3/4 cup brewed coffee

1/2 cup vegetable oil
1/3 cup white sugar
4 teaspoons baking powder
1 teaspoon salt
1 teaspoon vanilla extract

Preheat waffle iron. Beat egg whites in a bowl until fluffy, set aside. In large bowl mix together egg yolks, flour, milk, vegetable oil, sugar, baking powder, salt and vanilla, just until smooth. Fold in egg whites.


Pour mix onto hot waffle iron. Cook until golden brown (and shiny!). Serve hot with butter and syrup. Or honey butter. Or cinnamon butter.
Try adding in something special like chocolate chips, strawberries, blueberries, nuts, raisins/dried fruit, etc.
Of course, I used chocolate chips. Being close to Valentines Day, I've got alot of chocolate around the house ;)

Next time, I may try with all rice flour and some strawberries. Sorta mochi-waffles? :)

Also, I will attempt this technique (egg whites) with Maseca. Maseca makes wonderful pancakes but my last waffle-iron attempt ended badly, I guess it burns too quickly. Maybe with more air in them, they wont burn as quickly *shrug.




about me


me me me me me meeeee....
blog roll


- your links here





about my site


This site was designed by BibiPiggy and edited by ME :o) Links to give credit:


stephanie | designer


wordpress | inspiration


evelyn's place | pixels


lovelycore | pixels


sweet-note | image


annabel | others