Curry!!!!!!!!!!!!

Thursday, November 6, 2008 | Time: 5:45 PM



I love curry. Curry is yumalicious. I'm especially fond of Thai curry, but every so often I find an Indian-style curry that isnt too pungent or spicy for me. I found a really great recipe for curry today and I have to admit, I'm surprised at how well it turned out. Its got lovely flavor that improves endlessly with time. Its kind of sweet and savory and a little creamy.
The original recipe is here, but I changed it slightly in order to accommodate what I had on hand already.



Coconut Chicken Curry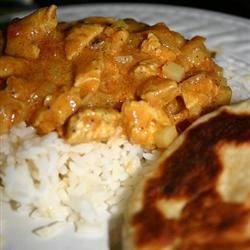 2 large boneless, skinless chicken breasts (cut into cubes)

salt and pepper to taste

1 1/2 tablespoons vegetable oil

2 tablespoons curry powder

1/2 onion, thinly sliced

1-2 teaspoons Minced Garlic (or 2 cloves, crushed)

1 can (14oz) light coconut milk

2 ripe tomatoes, peeled (fresh from the garden)

1/2 cup tomato paste (to taste)

2-3 tablespoons sugar

3 red potatoes, peeled, cut into cubes

1-2 teaspoons Red (cayanne) Pepper

A little water, a little half and half




Season chicken with salt and pepper.
Heat oil and curry powder over medium-high heat for 3-5 minutes. Stir it, watch it doesnt burn, but heating the spices and oil together produces a lovely flavor and aroma, so don't skimp on this one!
Stir in onions, potatoes and garlic and cook about 10 minutes, until onions are translucent. Add chicken, toss to coat everything with the curry/oil. Reduce heat to medium and cook until chicken is no longer pink in the middle, about 10 minutes.
Pour coconut milk over everything, add in tomatoes, tomato paste and sugar. Stir to combine. At this part I added a little water and a little half-and-half, because I didn't have a can of stewed tomatoes with the juice, the mixture was a little too thick.
Cover and simmer about an hour, stirring occasionally.

Serve over basmati rice and/or with fresh naan bread.





Curry Puffs!


The original recipe called to simmer only 30-40 minutes but I find this curry becomes WAY more flavorful the longer the spices get to mesh together. Feasibly, you could put this on a low simmer for several hours.
In fact, you could probably make this in a crock pot (slow cooker) - saute the oil/curry, onions and garlic and chicken and then add everything to the pot and cook on high 5-6 hours.

And if you have any leftovers... make

Curry Puffs

!!! Easiest thing in the world and perfect for my sweetheart's lunchbox.


((Note: I added rice to the curry to make it thick enough to use in pastry))

Just fold a square of puff pastry (store bought, in frozen section usually next to pies) around a bit of curry. Using the edges, making a triangle. Crimp edges together with a fork to seal. Optionally, brush a little egg-wash (beaten egg with water) on top. Bake at about 400 degrees F for 10-15 minutes until lightly browned.
I really like these with puff pastry, even though alot of 'Curry Puff' recipes call for you to make your own pastry. I hardly ever fry anything ('cause its just so MESSY.. and its unhealthy;P), and I think the satisfying crunchyness of this type of pastry holds on to the spirit of fried food without being too bad-for-you.

Anyways, after adding the rice, I always have a ton of curry leftover for other meals. I like to stash some in the freezer for curry-rice balls or pastries or whatever, a quick easy dinner or lunch.
Also, I can add another can of coconut milk and/or some milk to the mix to make it 'curry' again. Play with the spices as need, such as adding a little more tomato paste. This way you sort of 'reconstitute' it back into a saucy curry and can easily sop it up with some nice hot naan bread or just a great big spoon :)
Cheers!




about me


me me me me me meeeee....
blog roll


- your links here





about my site


This site was designed by BibiPiggy and edited by ME :o) Links to give credit:


stephanie | designer


wordpress | inspiration


evelyn's place | pixels


lovelycore | pixels


sweet-note | image


annabel | others